my vision, my dreams, my creations are so much bigger than me. 
they come through me, with everything that I am. my devotion – an expression of gratitude to this life, to what's possible. an expression of giving back. 
the truth is – I can only give everything of me when I create. everything. not just a part. all of me. it's always been this way. it always will be. this is why my creations never were a product or a brand. they are a raw, unfiltered expression of my soul. they are art. they are deep, vulnerable pieces of passion, of purpose.
loa is known for guiding thousands of souls to their truth.
SHE TEACHES THE MEDICINE OF TRUTH, BREATHWORK, DEVOTIONAL RELATING AND THE ART OF SPACEHOLDING.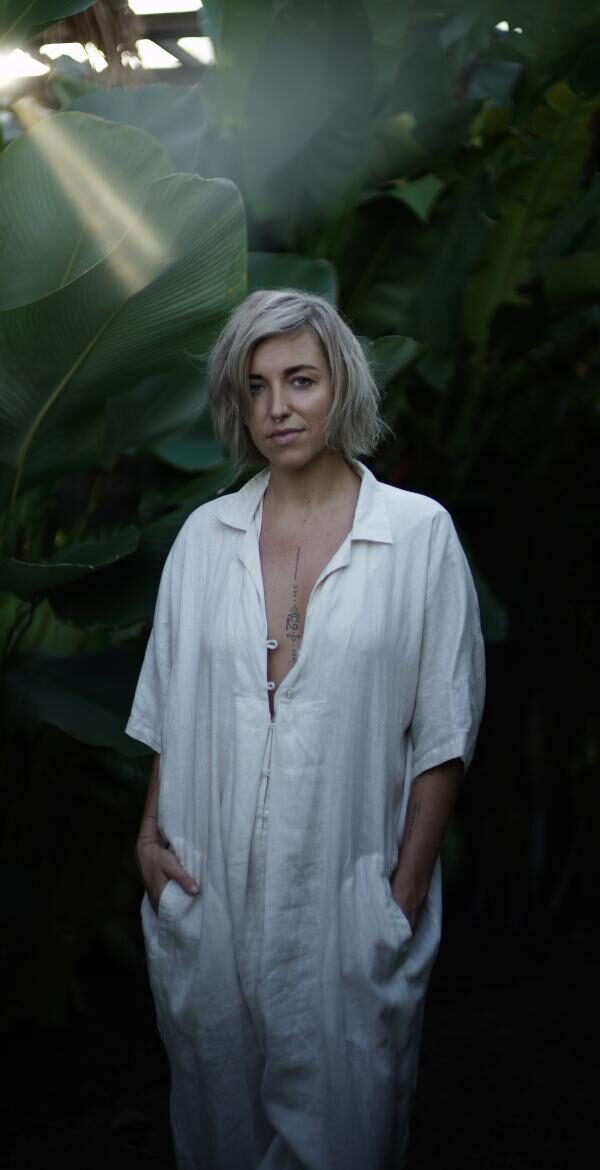 her journey as an entrepreneur.
» FOUNDER AND CREATOR OF THE SPACEHOLDING ACADEMY – SPACEHOLDING IN SERVICE TO TRUTH
» CO-AUTHOR OF THE BOOK "CONNECTED – SCIENCE STORIES AND SPIRIT OF ANCIENT BREATHING TECHNIQUE"
» FOUNDER AND HOST OF THE RHYTHM OF TRUTH RETREATS IN BALI
» CO-TEACHING A 400H BREATHWORK PRACTITIONER
TRAINING IN BALI
» PARTICIPATING IN SEVERAL WORKSHOPS AND CEREMONIES RELATED TO YOGA PHILSOPHY, SOUND HEALING, AUTHENTIC RELATING, TANTRA AND SERVING CACAO
» SUPPORTING EMBODIED SCIENCE OF BREATH 1 MONTHS CONTAINER
» 400H BREATHWORK PRACTITIONER TRAINING IN BALI
» CREATOR AND HOST OF HER OWN COACHING TRAINING "TRUE POWER AUSBILDUNG – INTUITIVE AUTHENTIC COACHING"
» INTERWIEVED BY GREATOR – GERMANYS BIGGEST PERSONAL DEVELOPMENT PLATFORM
» SPEAKER AT THE SOUL X FESTIVAL
» LICENCED AND TRAINED AS A PUBLIC SPEAKER BY TOP SPEAKER TOBIAS BECK
> PUBLIC SPEAKING ACADEMY
> OWN THE STAGE SEMINAR
» CO-FOUNDER OF THE COMPANY "TEAM ONE" WITH OVER 30 EMPLOYEES
» MODERATOR AND CO-HOST OF THE AWESOME PEOPLE CONFERENCE
» JURY MEMBER, COACH AND CO-HOST OF THE AWESOME PEOPLE "TALENT-SCHMIEDE". SUPPORTING YOUNG ENTREPRENEURS TO EVOLVE IN THEIR BUSINESS.
» FOUNDER AND CREATOR OF THE TRUE POWER ONLINE COACHING COURSE WITH OVER 1000 PARTICIPANTS
» SELF EMPLOYED AS LIFE COACH AND MENTOR. 1:1 COACHINGS, TRUTH GUIDANCE AND ENERGY WORK FOR 4 YEARS
» FOUNDER AND HOST OF THE TRUE POWER PODCAST – #1 IN THE GERMAN HEALTH CHARTS.
» TETA 1, TETA 2 AND TETA 3 SEMINARS BY TOP COACH AND SPEAKER DIETER LANGE
» LICENSED AS ENERGY CONSULTANT AND NEW SPIRIT COACH BY BAHAR YILMAZ AND JEFFREY KASTENMÜLLER
» AUTHOR AND CREATOR OF HER OWN GERMAN COOKBOOK "LOA'S FITFOOD KÜCHE – MIT LEICHTIGKEIT ZU EINEM LEBEN VOLLER POWER"
» CREATOR OF HER FIRST FITNSS AND FOOD ONLINE COURSE "LOA FRESH"
» EXPERT AND SPONSORED ATHLETE IN THE ASICS TRAINING SQUAD.
» SELF EMPLOYED AS PERSONAL TRAINER AND FOOD COACH FOR OVER 2 YEARS
> CREATOR AND HOST OF OUTDOOR WORKOUT EVENTS "TEAM LOA – WORKOUTS FITFOOD BALANCE"
> HEALTH CONSULTANT FOR YOUNG ATHLETES
> 1:1 PERSONAL TRAINING AND FOOD COACHING
» LICENCED AS PERSONAL TRAINER AND NUTRITIONIST
» BACHELOR BUSINESS ADMINISTRATION